Casting-rolling process of 5052 aluminium plate:
(1) Casting-rolling process of annealed 5052 aluminium plate: hot rolled aluminium sheet- double-row trimming of hot rolling -mill trimming slice aging -treatment and quenching in salt bath furnace- acid treatment- cold water washing -warm water washing -unloading plate -calendering straightening sawing -cutting product -inspection -stacking packing (oiling)- delivery.
(2) Finishing process of pre-stretched 5052 aluminium sheet: hot-rolled sheet -sawing section -loading plate aging treatment and quenching in roller -hearth furnace unloading plate -straightening pre-stretching aging -sawing finished product -inspection packaging -delivery.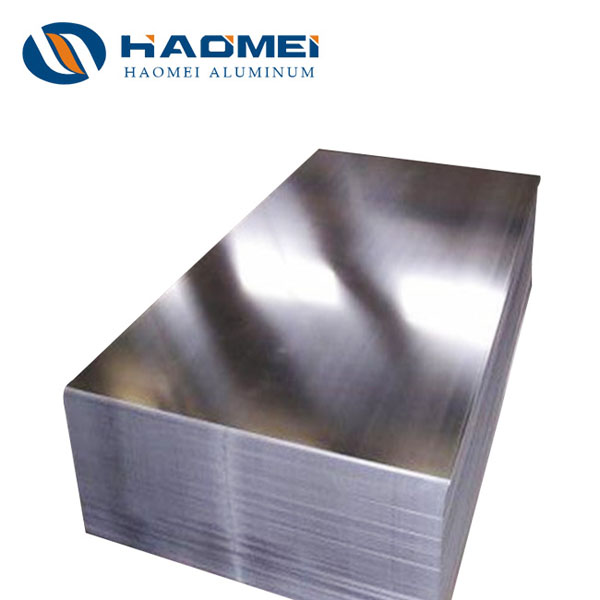 (3) hot rolled aluminium sheet casting and rolling process; hot rolled sheet -cutting section -straightening -sawing (shearing)- finished product -inspection -packaging -delivery.
(4) Casting and rolling process of quenched plate: hot rolled plate cutting piece heat treatment of finished product straightening sawing (shearing) inspection of finished product packing delivery.
Characteristics and Application of 5052 Aluminum Plate
5052 aluminium sheet plate is a common product of 5000 aluminium-magnesium alloy series. 5052 belongs to Al-Mg series alloys and has a wide range of applications, especially in the construction industry. 5052 aluminium is considered to be a promising alloy. 5052 aluminium sheet has good corrosion resistance, excellent weldability, good cold workability and medium strength.
The characteristics of 5052 aluminium sheet:
1. Mg is the main alloy element in aluminium alloy. Magnesium content ranges from 3% to 5%. It can also be called Al-Mg alloy.
2. No heat treatment.
3. Low density (2.68). The weight of Al-Mg alloy is lower than that of other alloys in the same region.
4. The strength of aluminium alloy is higher than 1000,3000 series. It is medium and high strength aluminium alloy with good fatigue resistance and weldability. 5052 aluminium has high tensile strength and elongation.
5. The corrosion resistance of marine atmosphere is better.
6, 5052 aluminium sheet is a series of hot rolled aluminium plate sheets, so it can be further processed by oxidation.
The application of 5052 aluminium sheet is various automotive parts, sheet metal parts, mechanical parts, automobiles, aircraft fuel tanks, warships, submarines, containers, household appliances, refrigerator lining, etc. Properties of 5052 aluminium sheet: tensile strength (_b): 170 ~ 305 MPa, yield strength (_b): 0.2 (MPa), modulus of elasticity (E): 69.3 ~ 70.7 Gpa, annealing temperature: 345 C.